I had some spinach thawed tonight to make Chicken Piccata for Atia and me, and then she got a ticket and wasn't able to make the drive up here. So here I sat, with five chicken breasts, not sure what to do with them. I thought about making chicken piccata still, especially since it's been a while, but it just didn't sound good anymore. So I went to the grocery store and ended up with a chicken shell casserole bake!
approx. 10 cloves garlic (I have a bunch of minced garlic so I put in 4 heaping spoonfuls.)
Heat the oven to 350*. Cook the pasta to al dente (and make sure you salt the water!). Dice the chicken breasts and cook them in the olive oil for 10ish minutes. Then add garlic and cook until brown. Add in the wine and spinach. Cook until wilted. Toss everything together in a casserole dish and cover with cheese! (I used a Mexican blend because it's what I had on hand. It probably would be better with mozzarella.) Cook for 25 - 30 minutes.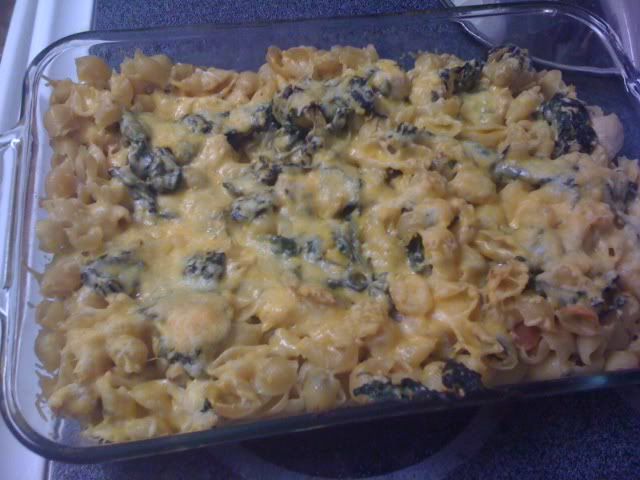 It could have used a little more wine, I think. Some of the chicken was a little dry. Overall, it was delicious! I have a ton of leftovers, and I know this is going to be something that I don't regret making a ton of.
I think I'm going to start winding down so I can hit the hay around 11. I have my walking group at 5:45 in the morning again, so I'll be up at 5. I have a long day tomorrow! Ciao!