Attention caregivers!! Caregiver Village is a new site for caregivers that just recently launched. They are offering a 12-month membership for free to get the word out! By clicking through this link, one dollar will be donated to the amazing non-profit I volunteer for. Caregiver Village is for
all
caregivers. I know most of my amazing friends and followers that are caregivers are caring for their veteran. But no matter if you are caring for a veteran, a special needs child or loved one, a disabled parent, or if you are a home nurse or professional caregiver - they have resources for everyone. There is a caregiving game section, a journaling section, a book club to talk about articles you've come across that have helped you, and many other resources. I've heard some pretty positive things about it. Check it out! Please pass on
the link
if you know a caregiver or someone who might be able to benefit from their resources.
Today was the German Reception on campus. Free German food and sweets (marzipan! yum!), as well as information about study abroad programs and the courses that will be offered next semester. I hadn't actually planned on taking a German class this spring, but they are offering a Holocaust class that I don't know that I can resist. Especially after visiting Auschwitz this summer, I would love a class like that. The Holocaust and Jewish history has always interested me. I read Anne Frank's diary at a very young age. I'm interested in seeing what the class is like.
Picture 33, from today. My little monster was hanging out on top of the kitchen cabinets. Yes, that is my microwave at the bottom of the photo. Raj was being super adorable today. She hung out on my shoulder for quite a while - something she rarely does. No complaints here! Plus, she didn't poop on me. Always a bonus.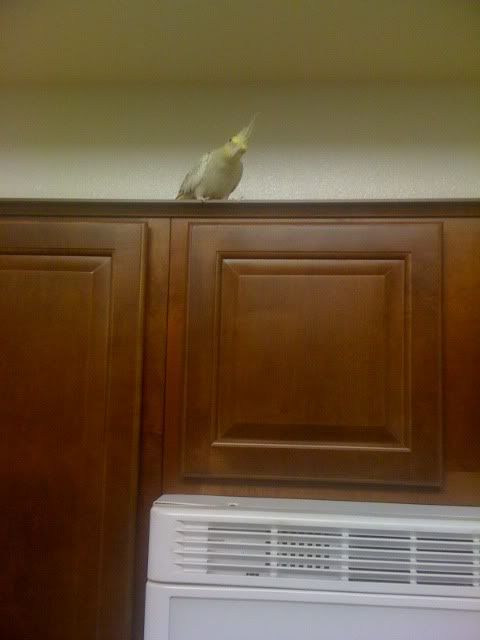 I have a raging headache. I think I'm outta here for the night. Ciao!