I saw this video on facebook today. I don't cry often, but this definitely had me in tears.
He's not the best vocalist I've ever heard (though he is pretty good!), but his story is astonishing. And his mom's reaction throughout the entire thing was so heart-warming.
If I ever get down about the hand I've been dealt with in life, I'm going to watch this again.
On another note, today was pretty fantastic. I had such an amazing talk with Shari, and then I got in a few extra hours at work. Austin came in with a migraine, and asked to go home early. Nick said she could, as long as she could get me to work for her. So she asked, and I said yes. As she was leaving, she came over and handed me this note, with $10 clipped to the back of it.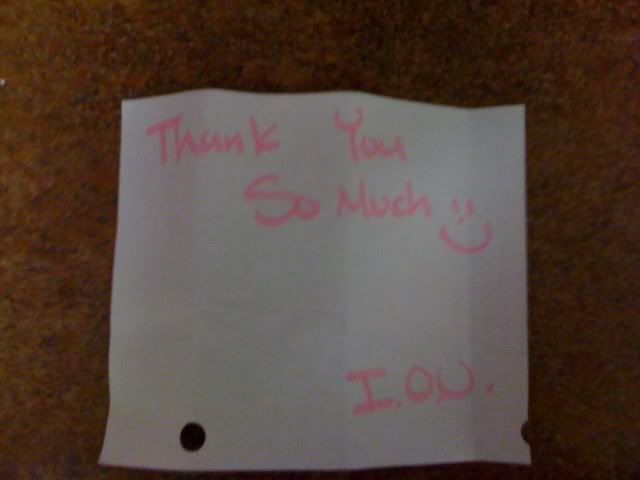 My coworkers are awesome. Nick and I spent the evening chatting about his old sun conure, our mutual love of everything John Grisham and Michael Crichton, the Gunslinger series, historical fiction, floor-to-ceiling bookshelves, road trips, and snow.
I suppose I should get some homework done before I shower and hit the sack. Ciao!